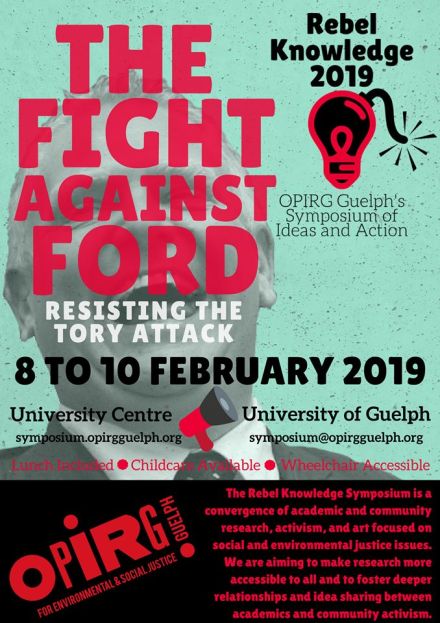 Here you can find all the information you need to know about the 2019 Rebel Knowledge Symposium on the theme of 'THE FIGHT AGAINST FORD: Resisting the Tory Attack'. Follow the drop-down menu above to access the schedule, descriptions, and more!
Rebel Knowledge 2019, OPIRG Guelph's Symposium of Ideas and Action, is taking place the weekend of February 8 – 10 2019 in the University Centre at the University of Guelph.
This event is always FREE and provides free food and child care. The space is physically accessible, with accessible and gender neutral washrooms. Everyone Welcome!
This year's theme is The Fight Against Ford: Resisting the Tory Attack! Please join us if you're involved or want to get involved in the fight against the Ontario government, or if you're looking for inspiration. We hope to come out of the weekend with a stronger and more vibrant movement for the years ahead.