EXTENDED TO 23 OCTOBER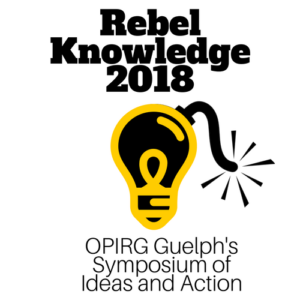 Interlocking Struggles!

It is not only our oppressions and privileges that are inseparably intertwined, but we ourselves. Recognizing this kinship within our individual experiences or put more simply, our shared humanity—together with the anarchist call for the critical need to work together as accomplices and not allies—may be the best route to our collective liberation. — Hillary Lazar, "Until All Are Free: Black Feminism, Anarchism, and Interlocking Oppression".
Call for Proposals
The fight for justice in our communities and spaces is ongoing and ever urgent, from rent strikes in Parkdale to resistance to the Kinder Morgan pipeline. As we go about this work, it remains important to explore the ways in which our struggles—and the structures of injustice against which we are fighting—interact and depend on one another. OPIRG Guelph invites you to join us at Rebel Knowledge 2018, to come together to talk about a wide range of social and environmental justice issues, to learn from each other, and to explore the connections between our struggles.
Rebel Knowledge, OPIRG Guelph's social and environmental justice symposium, is a convergence of academic and community research, activism, and art focused on social and environmental justice issues. We are aiming to make research more accessible to all and to foster deeper relationships and idea-sharing between academics and community activists. Our goal is to support the development of research that is useful to community-based campaigns and projects working for social change by creating a space for this exchange to take place.

We welcome all contributions and ideas focused on creating social and environmental change: research presentations, panels, roundtables, breakout groups, multimedia and art displays, interactive activities, zines and more. Tell us about a campaign you organized, explore various theories, present histories of struggles, and teach us some things. OPIRG Guelph welcomes proposals on topics related (but not limited) to the following:
Climate justice, environmental racism, extractive industries (renewable and nonrenewable), food security, sustainability
Native sovereignty, Indigenous solidarity
Police violence, state violence, p

rison abolition, and the prison-industrial complex

Anti-capitalism, economic justice, alternative economies, governance models

Racism and xenophobia, especially anti-Black racism and Islamophobia

Migrant justice, immigration detention, migrant labour, and borders.
Anti-fascist organizing (including historical perspectives)

Disability justice, accessibility

Gender justice,  r

ape culture, women's rights, feminisms
Strategies for making change, social movement history

Queer and trans liberation, qtpoc resistance

Reproductive justice, h

ealthcare activism, the medical-industrial complex

War, occupation, and the military industrial complex
Submitting a Proposal
We welcome proposals for participation in a variety of different ways, including (but not limited to) the following categories:
Individual Presentation
Panel
Interactive Workshop
Facilitated Discussion
Art Space
Other format
(See form for descriptions)
Please submit the following in the below form:

An indication of the

category of contribution

you are proposing ("Individual Presentation", "Panel", "Art Space," etc.) or, if you are proposing a format not listed, a description of the proposed format, activities, and space/materials needed

The

title

of your contribution

An

abstract

of no more than 300 words describing the proposed contribution

A

shortened description

of your contribution for use in the program (no more than 70 words)

A

biography

of no more than 50 words

Your

contact information

(including an email address that you check regularly)

Your

availability

on Saturday February 10th and/or Sunday February 11th. 



Submission deadline: Monday, 23 October at 11:59 pm Eastern time.
The symposium will be held the weekend of February 9th through February 11th.